INDUSTRIAL IoT FOR COMPLETE ASSET MANAGEMENT
A PLATFORM LEADING THE SECTOR
With more than a decade of development, managing thousands of industrial assets on or off-shore.
Unique in the market, with triple security certification.
Request demo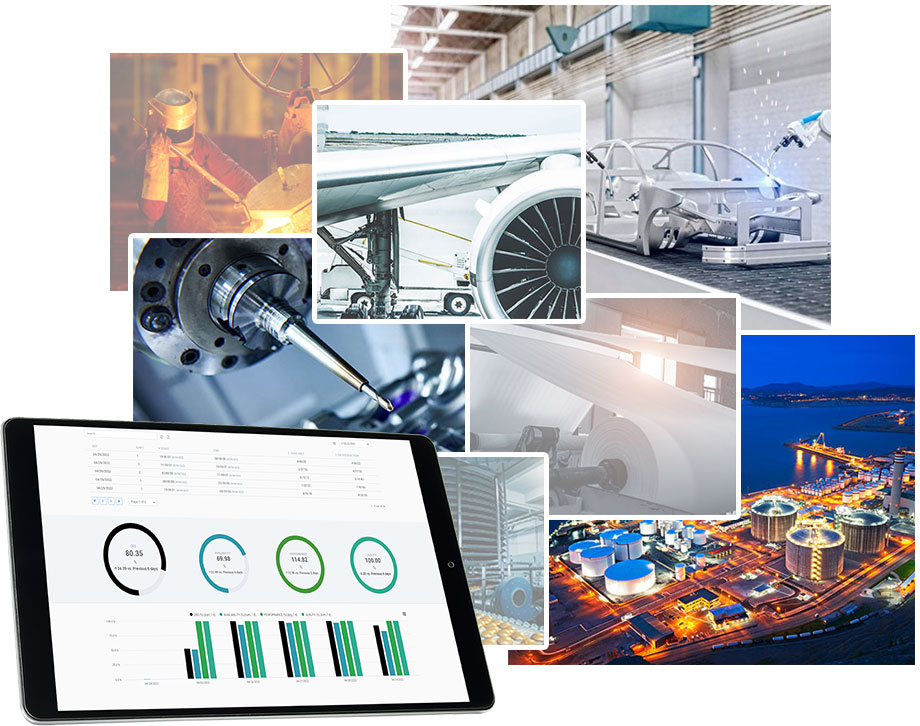 COLLECT & PROCESS DATA ON THE EDGE
First thing is to ensure that data you collect is accurate, useful and reliable enough to drive you & your company to achieving your set goals.
Having interacted with multiple process steps across various sectors, we know in detail which data to obtain, where to find it within your production environment, and how to process it.
---
EDGE DEVICE

SAVVY SMART BOX
Plug & play, self-deploying system: installation can be done on your own terms easyly, quickly and securely. You will have new environments connected to the system in a matter of minutes, be they single machines or entire production lines.
Collect, integrate and process all the information that originates from the plant, generated by machines, robots, MES systems, sensors and any other data source relevant to the process.
Compatible with mainline CNC models and manufacturers:
Advanced data analytics and Machine Learning on the Edge. Not all data needs to be relayed to the cloud, you can choose to analyze certain data closer to the machine, in order to gain speed, responsiveness and efficiency.
Deploy new features and updates without physical travel to distant plants or machine stops. Devices are updated remotely without interference to machine operation, ensuring consistent versions that provide stability and security.
Committed to cybersecurity. Our devices are the only ones with a triple cybersecurity certification in market: Common Criteria, ISO / IEC 15408, ISO / IEC 18045.
EDGE + CLOUD DISCOVERY
Industrial Business Intelligence
---
When your data is collected, its encryption, transmission, storage, sorting and curation is managed by "Savvy Industrial Cloud", the Big Data platform where customers can establish their entire organization.
Through the data persisted in the Big Data repository, we provide a suite of digital tools & displays that allow for easy, detailed and quick interpretation of data.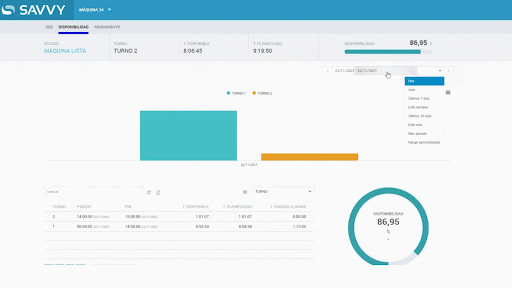 VISUALIZE DATA IN REAL TIME
Access status or process inforamtion in real time for analysis and comparison.
MULTILEVEL INTEROPERABILITY
Thanks to the multilevel data API, any sort of information can be retrieved over standard protocols, for use by external systems either on-plant or on the cloud.
USE FROM ANY DEVICE
Access from mobile devices, tablets & PCs from anywhere in the world, anytime, by creating displays compatible with all devices, adaptable to each user.
ACCESS CONTROL
Ability to define roles & permissions to a fine grain, being able to configure which sets of user may access a given variable, visualize a display, or list only specific machines / production lines.
OPTIMIZATION
Data Engineering AI & ML
---
At this level, we focus on understanding your data and extracting value information from it. For this, we have our data engineering team, experts on analysing industrial data through ML & AI technologies and identifying trends, correlations and anomalies with accuracy. We ensure maximum profit from your data.
More info
COMPATIBLE WITH MAINLINE MARKET BRANDS
CNC / PLC
---
Modbus
MTConnect
MQTT
OPC UA
OPC DA
EthernetIP / CIP
SQL
XML
SFTP/FTP
API
TwinCAT ADS
FINS
S7
CSV
Umati
Other connectors
WHY CHOOSE SAVVY?
WE ARE QUICK

Autonomous installation that is fast, easy & secure. Operators are able to connect our data collection systems on their own, with Savvy support always at the ready should the need arise.
WE MAKE IT EASY

Adhering to the NO-CODE conception, our platform enables anybody to obtain maximum gain from data, regardless of their technical level.
We offer plenty of advanced developer tools for analytics, research and development departments.
WE ARE THREE TIMES SECURE
At Savvy, we consider cybersecurity of the utmost importance when designing and deploying digital solutions for our customers, and our triple security certification is proof of that: Common Criteria, ISO/IEC 15408, ISO / IEC 18045.
MULTILEVEL INTEROPERABILITY - SHARE YOUR DATA WITH EXTERNAL SYSTEMS
Thanks to our APIs and our ample capacity for integration, we enable communication with external systems in clean and secure fashion, without complex or ill-suited adaptations, either at machine, plant or cloud levels.
SCALABILITY
Not every technology is capable of scaling to meet your future business requirements. Lackluster scaling can lead to process interruptions, poor component performance, or even complete system collapse, preventing you from providing service to your customers.

Our technology has been implemented on more than 1000 plants & shopfloors, proving its level of robustness, maturity and reliability.
WE ADAPT TO YOUR NEEDS
Online or offline, we propose the optimal solution for distinct customer contexts.
We will analyze any particular or specifical case you bring to us, and produce a solution that fits like a glove.
FLEXIBILITY & INTEGRATION
Most of the distinct production processes of today are managed by or comprise complex digital ecosystems. For this reason, our technology furthers collaboration, complementing and boosting other platforms already in use by customers, that benefit greatly from our suite of subject-specific solutions for industry.
At the same time, our Edge solution is compatible and can be integrated with many enterprise platforms as well.
CUSTOMIZATION
Tailor-made branding and product image. All interfaces and displays can be customized, including corporate coloring, logos, reports & dashboards... giving a consistent look to the system.
CYBERSECURITY
Unique in the market, with triple security certification
AWARDS
Innovation award for integration of I4.0 concepts in manufacturing systems